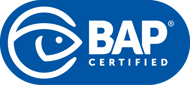 Consumers Look to Eco-Labels to Guide Purchasing Decisions
A study conducted by Changing Tastes in 2021 of 3,000 U.S. adult consumers and 400 purchasing decision makers in foodservice found that seafood is the preferred choice of consumers looking to eat less meat. It also found that eco-labels such as the BAP label are influencing perceptions of the seafood consumers purchase and the supermarkets and restaurants they frequent. In fact, the research shows that eco-labels that promote responsible seafood production are more often influencing U.S. consumers to choose one product over another or one brand over another.
This webinar provides a more in-depth overview of the results of the study.
46% of U.S. consumers have favorable views of retail channels that display the BAP label
64% of consumers would choose products with the BAP label over other proteins
Millennials have the highest recognition of the BAP label
Nearly half of millennials think more positively of the store from which they purchase they purchase seafood if that store carries seafood with the BAP label